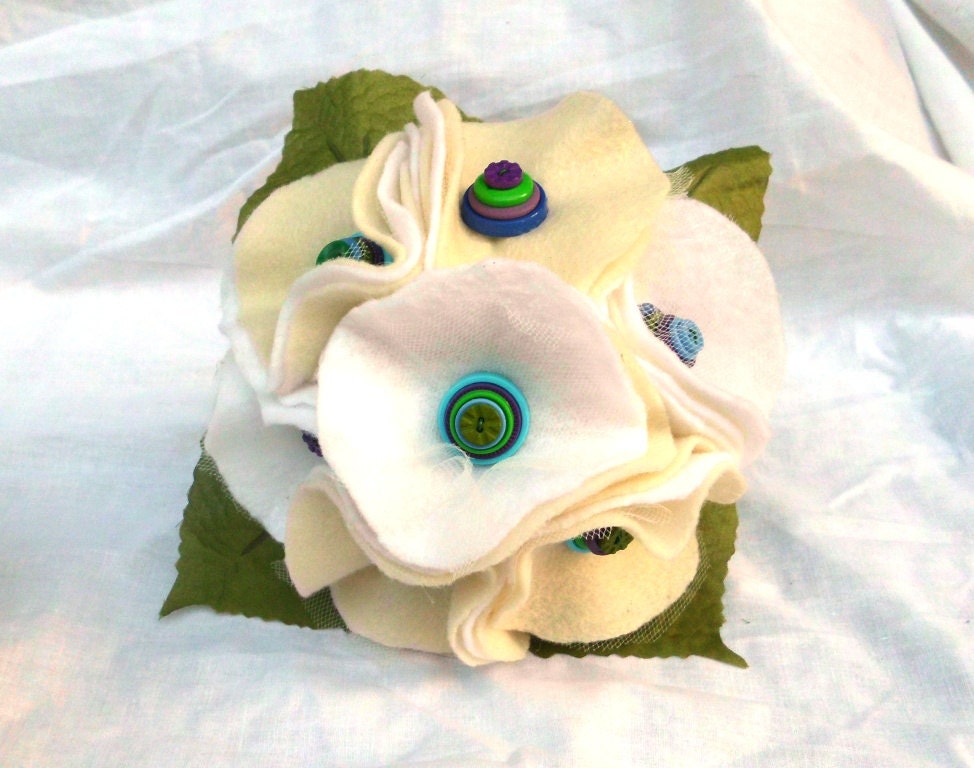 Art For a Home
is giving away a Bridal Toss Bouquet! What bride wants to through her actual bouquet?!!! I know I don't! Best part about this is someone will have an awesome keepsake from your wedding that will last until their wedding!
Did you remember to order a toss bouquet? Win one here!
Art for a Home is giving one lucky bride a toss bouquet that will be 6" and can be custom made with colors of her choice! This fabric bouquet won't wilt in the sun or dry up in the cold, nor will it be crushed in the toss and can become an heirloom since it will last until the catcher's wedding for them to toss! Not only can you create memories with this but tradition!
Bridal Toss Bouquet Felt and Button
Product Description:
This fabric flower bouquet is made using felt, soft bridal tulle, and buttons. This bouquet is the perfect size for a toss at 6" in diameter, and it features ivory, cream, and white felt and tulle flowers. The flowers are accented with peacock color themed buttons in shades of purple, green, and blue. The base of the bouquet is finished off with leaves, and the handle is wrapped in ivory ribbon. This bouquet can be customized to your colors and style.
This fabric flower bouquet measures 6" in diameter and contains 7 stems. Enter to win our giveaway going on from September 28, 2012 to October 29, 2012 or visit
www.etsy.com/shop/artforahome
and place your order!
Loading Entry-Form...
...